In Jalandhar, Scooty rider Tejinder Kaur (27) was crushed by a truck near DAV College at 11 am on Thursday. He died on the spot. Tejinder was a resident of Liddar. She was doing a beautician's course at an institute and left home in the morning to go there.
Police have arrested truck driver Prithvi Pal Singh resident Sangat Singh and started questioning him. It is learned that Tejinder had returned to Jalandhar from England some time back. A few days later, she was to return to Canada after completing her beautician's course.
At the same time, 108 ambulances did not reach the spot even after receiving information about the incident. He refused to pick up the body. Relatives then transported the body to the Civil Hospital morgue in a private vehicle. Police of Police Station Division-1 are investigating the case.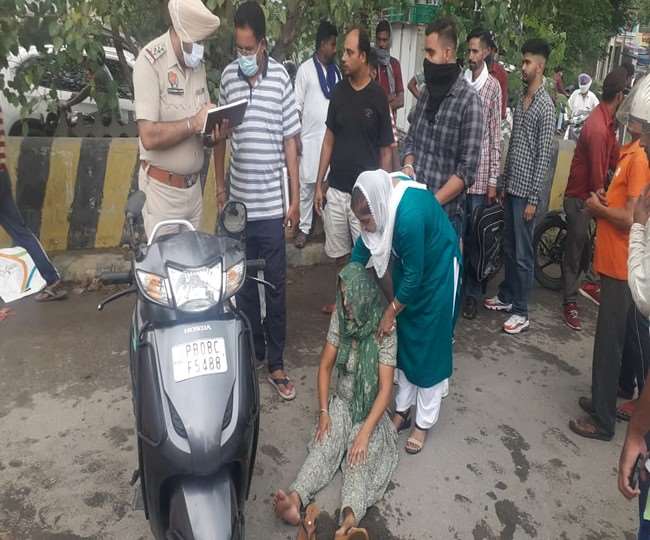 Earlier, the truck driver had fled the scene after the accident. People grabbed him near the market and handed him over to the police. Tejinder Kaur was married to Bhupinder Singh about a year and a half ago. Bhupinder Singh is living permanently in Canada. Some time ago, Tejinder Kaur also went to England, but it was not confirmed. She was now doing a beautician course in Jalandhar. After that he had to go to Canada. She was on her way home from her institute on Thursday when she was involved in an accident.
Also read: Major operation in Patiala: Massage center closed in Urban Estate, allegations leveled against police
Tejinder Kaur lived with her mother and brother. As soon as the mother found out about the accident, she rushed to the spot but was shocked to see the body. When he saw the dead body, the first thing that came out of his mouth was that our life was over. The mother, who had dreamed of a golden life for her daughter after settling abroad, fainted there. People rushed him to the hospital.